View Calendar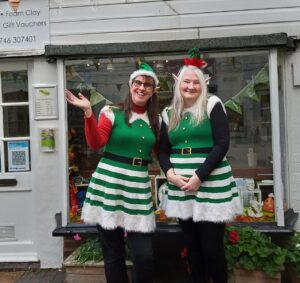 We are supporting the Alzheimer's Society on Saturday 4th December for their National Elf Day.
On the 4th there are lots of activities planned for children and adults, one in particular is the appearance of the "Elf on the Shelf" which you can come along and paint in your own style knowing that your creativity will help our fundraising.   There will be many more activities on the day, a little bit of silliness, so come along and support the cause and have some fun.
Alzheimer's is the most common cause of Dementia and something that potentially could affect anybody and will have a huge impact on the person effected and their friends and family around them.  Personal experience shows how cruel this disease can be and anything that can be raised to help research will be much appreciated, therefore we feel passionate about supporting this good cause.
If you wish to find out more information on what we have planned, please either follow us on Facebook/Instagram, email us on studio@ceramicsandmore.co.uk    give us a ring on 01386 304878 during opening hours or take a look at our website www.ceramicsandmore.co.uk
You can donate to our JustGiving page by clicking here: https://www.justgiving.com/fundraising/elfday-kazandannie?utm_source=Sharethis&utm_medium=fundraising&utm_content=elfday-kazandannie&utm_campaign=pfp-email&utm_term=2e966d3bca1643d9b74ceb5024dee2a6.