View Calendar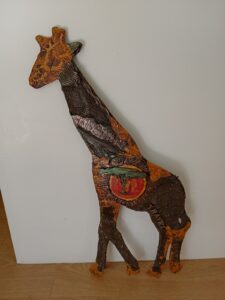 NEW Powertex Mixed Media Giraffe wall hanging
Come and join us to Powertex your own Giraffe wall hanging.
In this workshop you will be using Powertex fabric hardener, sculpture paste, bister sprays, various recycled fabrics, embellishments and rice papers to design and decorate a 27" tall MDF Wall hanging Giraffe.
Once dry you will use a dry brush technique to colour and enhance the texture on your Giraffe, the finished look is up to you.
For more photos see under 'discussion'
Powertex is a fabric hardener so we recommend wearing old clothes, aprons and gloves are supplied and refreshments are included but we suggest bringing a light snack for lunch (please no nuts).
Limited spaces available, £5 non-refundable (but transferable) deposit required on booking.
Give us a ring on 01386 304878 or pop into the studio at 18 Vine Mews, Vine Street, Evesham, WR11 4RE to book.
£40 per person